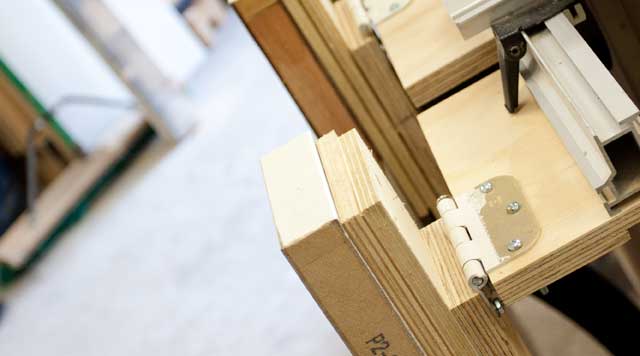 Folding Outfeed Table for Ryobi BT3000 Tablesaw
I recycled an old hollow-core door from our friends Ryan & Tracey after their dogs chewed a hole through it. Once I cut it down and reinforced it, it made a very nice flip-up folding outfeed table for the saw.
Folded Down:

Folded Up:

Top View with Sliding Miter Table Retracted:

Extended:

I mounted a 3/4″ plywood runner to the bottom of the rear rail using T-Nuts from T-Nuts.com.
I have a sacrificial fence on the stock Ryobi BT3000 rip fence. I had to cut an arc out of the end of it so that it doesn't collide with the outfeed table when its being folded.
Update:
Thanks to the advice from the good folks at BT3central in this thread, I made a few modifications.
I added a support which acts as an adjustable leg and is anchored to the saw rather than the floor. The result is enormously more intelligent and frees up a lot of space on the floor. Also, you can roll the saw wherever you please without worrying about the stand for the outfeed table.
I also rounded over the edge of the outfeed table to ensure that nothing hangs up when moving from the saw to the outfeed table.