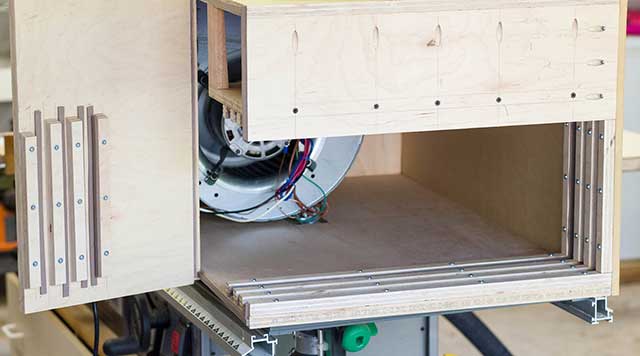 Shop-built 3-stage Air Cleaner Filter
Several years ago I built a basic air filter using an old recycled furnace fan, which I wrote about in this post. The original air cleaner was ugly, awkward to install via hanging chains, had a switch location which made it hard for my vertically-challenged wife to turn on, and was unsafe due to the exposed blower fan squirrel cage.

The original air cleaner — ugly, awkward, and too tall
I wanted to rebuild the filter to provide better fine-particle filtration and to have a different form factor to fit above a storage cabinet in our ever-evolving garage. I wanted to make it easier to install, less tall, to be easy for a shorter person to turn on & off, and to make the airflow direct-able. Additionally, while the original did a great job of filtering the air (and capturing mosquitos against its filter), I knew the finer-grained dust from cutting and sanding was likely not being captured by a basic furnace filter.
I need to give credit to the air filter built by Craig at No Wood Unturned Furniture Restorations for his air cleaner design which I found here. Specifically, he was able via email to point me towards the best source for the pocket air filters I used.
Additionally, I need to give special thanks to my friend Travis Fowler from Century A/C Supply in Austin. He asked one of his clients for an old A/C furnace blower motor which I used for the fan. If you want to build one of these, make friends with your HVAC contractor – they take squirrel cage blower fans like this to the metal recycler literally every day. A six-pack and a hearty thanks will likely earn you several of these fans.
Texas is hot… very hot in the summer. By installing this grille, not only are fingers protected from the spinning squirrel cage fan, but the wonderful rush of cool air can be directed right at my working position at the tablesaw and my workbench.
There are 3 sets of ribs which hold the air filters in place. These have foam weatherstripping to provide a tight seal.
There are 3 stages of air filters in the air path
There are 3 filters in the airflow path:
Basic cheap furnace filter (12″ x 24″ x 1″) (amazon link)
This disposable filter captures the largest dust particles as well as errant mosquitos & moths.
Washable Electrostatic Air Filter (12″ x 24″ x 5/8″) (Penn State Industries Part #ACES1224)
This filter is listed as 85% efficient at capturing 1 micron particles.
Deep Pocket Air Filter (12″ x 24″ x 18″ deep) (Penn State Industries Part #AC65F)
This filter is listed as 85% efficient at capturing 1 micron particles.
Here is a closeup of the filters.
Shop Drawings

Isometric



Front Elevation



Front Elevation Section



Left Side Elevation



Right Side Elevation

Parts List:

Part# Dimensions Name
1) 24. x 32. Top/Bottom
2) 24. x 32. Top/Bottom
3) 19.5 x 22. Fan Front
4) 19.5 x 32. Back
5) 10. x 19.5 Door
6) 6.75 x 24. Right Side
7) 18. x 24. Left Side
Cutlist: